Structure of NCCJ
To Love All Life Given by God (Acts 17:25b)
Theme of the 41st General Assembly (2021-2023) 
Governance
NCCJ's highest decision-making body is the General Assembly, which we hold every third year.  Under the General Assembly are the Executive Council and 14 committees.
Activities are planned by the relevant committees and then brought up before the Executive Council for approval.  Committees then carry out these approved activities.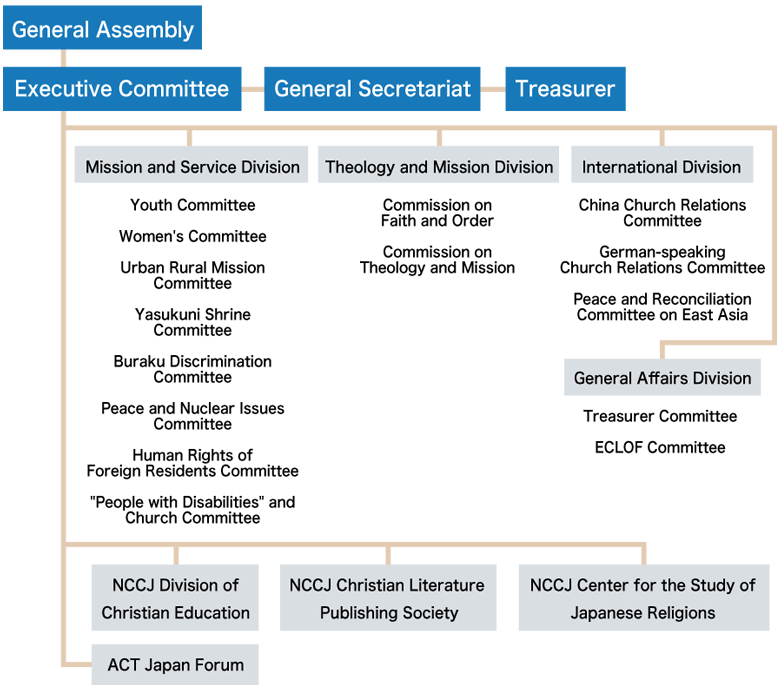 Click the names of the divisions to see the detail.
Officers
Chair: Rev. Kano YOSHITAKA, Japan Baptist Convention
Vice-Chair: Rev. Shinichi Jesse Yahagi, Japan Episcopal Church
Vice-Chair: Ms Mikako NISHIHARA, YWCA Japan
Secretary: Ms Yukiko MAKI, CWS Japan
Secretary: Dr Sawako FUJIWARA, Japan Evangelical Lutheran Church 
General Secretary: Rev. Dr. Sungjae Kim, Korean Christian Church in Japan