Structure of NCCJ
To Love All Life Given by God (Acts 17:25b)
Theme of the 41st General Assembly (2021-2023) 
Governance
NCCJ's highest decision-making body is the General Assembly, which we hold every third year.  Under the General Assembly are the Executive Council and 14 committees.
Activities are planned by the relevant committees and then brought up before the Executive Council for approval.  Committees then carry out these approved activities.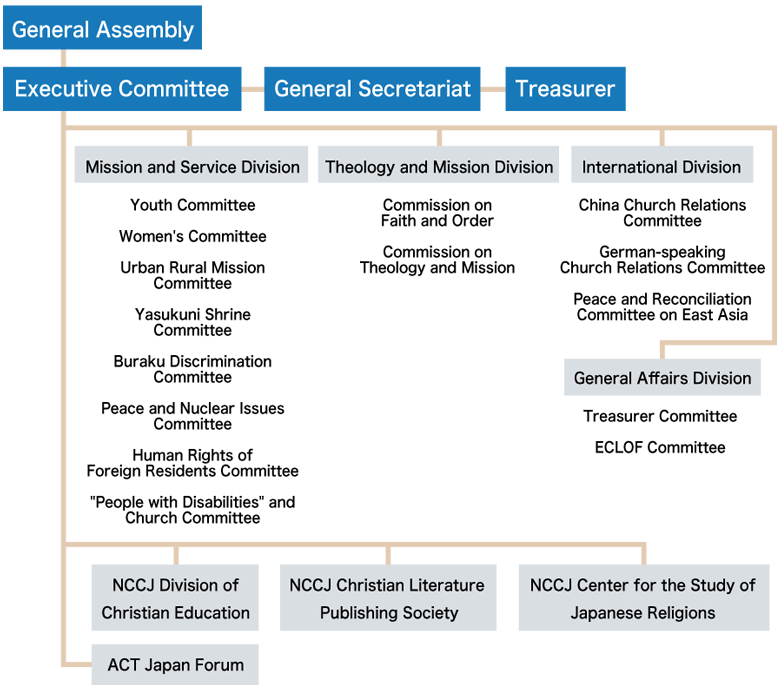 Click the names of the divisions to see the detail.
Officers
Chair: Rev. Kano YOSHITAKA, Japan Baptist Convention
Vice-Chair: Rev. Shinichi Jesse Yahagi, Japan Episcopal Church
Vice-Chair: Ms Mikako NISHIHARA, YWCA Japan
Secretary: Ms Yukiko MAKI, CWS Japan
Secretary: Dr Sawako FUJIWARA, Japan Evangelical Lutheran Church 
General Secretary: Rev. Dr. Sungjae Kim, Korean Christian Church in Japan
NCCJ Member and Associate Member Churches and Organizations
NCCJ is made up of 30 member and associate member churches and organizations. Christians make up a little less than 1% of the population of Japan but have influenced this country in many ways through education, welfare, human rights, women's concerns, and peace advocacy. NCCJ networks with other Christian councils, particularly in other Asian countries, and is a member of the Christian Conference of Asia (CCA) and a related organization of the World Council of Churches. Working ecumenically with people of other faiths in Japan and abroad, NCCJ strives to bring justice and peace to our world today.
NCCJ Member Churches
United Church of Christ in Japan (Nihon Kirisuto Kyodan)
Anglican Church of Japan (Nippon Sei Ko Kai)
Japan Evangelical Lutheran Church
Korean Christian Church in Japan
NCCJ Member Organizations
National Councils of YMCAs of Japan
KYOFUKAI – Japan Christian Women's Organization
Japan Christian Medical Association
Japan Christian Culture Society
NCCJ Associate Member Churches and Organizations
Christian Political League
Japan Fellowship of Reconciliation
Tokyo Seisho Shukai of Mukyokai Group
Swiss East Asia Mission (Tomisaka Christian Center)
Japan Free Methodist Church
Japan Christian Council for Evangelism with the Blind
Christian World Service Japan
International Christian Body
German-Speaking Evangelical Church
Yearly Meeting of Religious Society of Friends
International Christian University Church